Wasabi Guacamole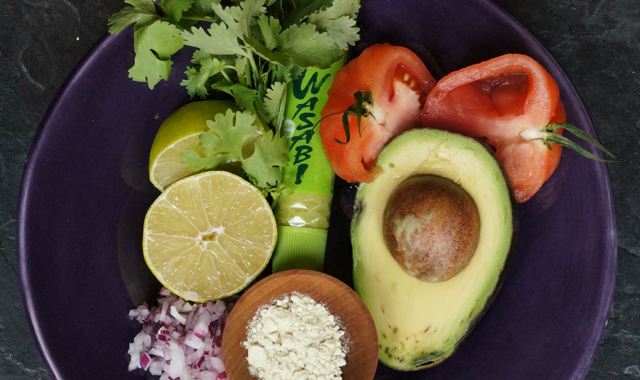 I N G R E D I E N T S
Two ripe avocadoes, peeled and mashed with a fork
1 small tomato, peeled, seeded and finely chopped
¼ cup of finely chopped red onion
¼ cup of finely chopped fresh cilantro
Juice of 1 lime
¼ tsp. of sea salt
Wasabi to taste

M E T H O D
Add the tomatoes, onion, cilantro, lime juice and sea salt to the mashed avocado, and stir until well mixed.
—
Add wasabi to your taste. (Note: I would never be the one to tell anyone how much heat they might like in their food. Taste-test at will until you achieve the perfect amount of heat.)
—
Serve with good quality low-salt tortilla chips. For a more festive presentation use a variety of colored and flavored chips; lime-flavored are especially good.
COOKING TIP / Drop the tomato in boiling water for 60 seconds, then run under cold water. The skin will come off easily. To seed the tomato, cut in half so the top half is where the stem was. Squeeze the halves to remove the seeds.
Yogi French Toast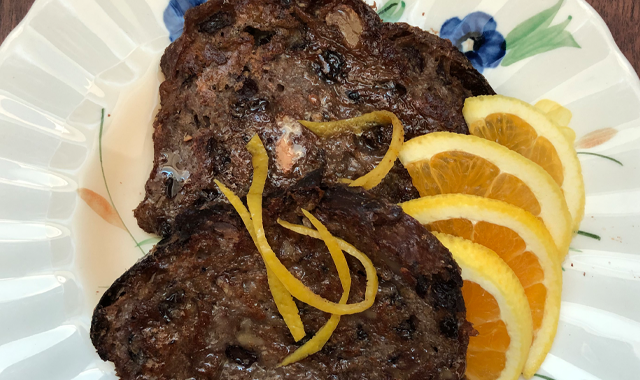 I N G R E D I E N T S
3–4 cups unsweetened soy or almond milk
6 cardamom seeds
6–8 whole cloves
3–4 black peppercorns
2 cinnamon sticks
A few generous sprinkles of freshly grated nutmeg
1½" piece of fresh ginger sliced thin
Zest of one orange
Star anise is also an option
Several bags of decaf Chai tea
6–8 slices of whole wheat sourdough bread

M E T H O D
Simmer the milk gently and try not to let it boil. A flame deflector set under a low flame can do the trick.
—
Add the rest of the ingredients and simmer for at least 20 minutes. (I tied the tea bags together and attached them to the handle on the pan so the string and tag did not become part of the recipe!)
—
Squeeze the bags of tea into the milk and discard.
—
Strain the yogi tea of the spices and discard them too, then pour the tea into a large flat glass pan and add the bread slices.
—
Soak the bread in the milk for 10 minutes until plump but not soggy, then carefully transfer the bread and enough milk into a large heated non-stick frying pan.
—
Allow the Yogi French Toast to poach until most of the milk is absorbed, turning once, and being careful not to let it stick to the pan. Create your own miracle!