Beet and Yam Purée with Garlic Greens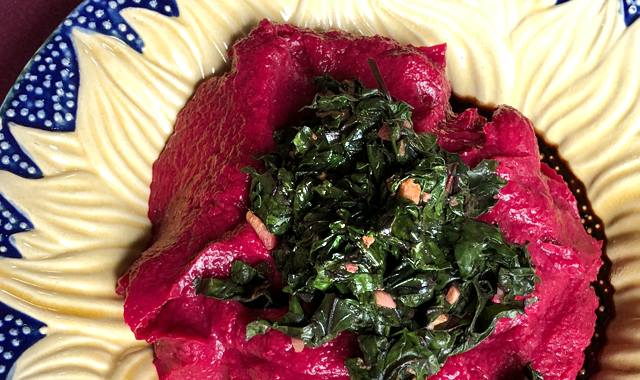 I N G R E D I E N T S
1 bunch of red beets with leaves
2–3 sweet potatoes or yams
Sea salt
Vegetable broth or water
1 clove of chopped garlic

M E T H O D
Wash the beets and leaves, cut off the tops and set aside; scrub the sweet potatoes, peel and quarter
____
Steam the beets for twenty minutes
____
Add the peeled and quartered sweet potatoes; steam together for another twenty minutes or until fork tender.
____
Remove from heat, and allow the beets to cool before peeling. The root of the beet is full of nutrients. Unless it is too stringy, try to include it in the puree.
____
Place the beets in a food processor, and process a bit before adding yams and a few pinches of sea salt; puree until smooth and set aside
____
Remove the tough ribs from the beet greens and chop coarsely
____
Sauté the greens and garlic in enough vegetable broth or water to cover the bottom of the pan
____
Add the beet greens and keep an eye on the color. Greens lose their goodness when they turn brown. They should be cooked until they are "evergreen." You don't need a timer when cooking greens, just your eyes.
____
Transfer the puréed vegetables to a serving bowl and top with the garlic greens.
COOKING TIP / Garlic gets very bitter when it browns. Try to keep the color white to slightly golden. It only takes a minute or two to cook. 
Curried Cauliflower Stew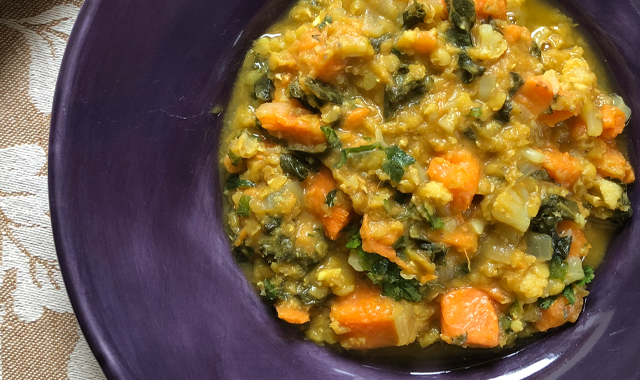 I N G R E D I E N T S
1 medium onion, cubed
2–3 cloves garlic, chopped
1 head of fennel, chopped
1–2 tbsp. grated fresh ginger
1 tbsp. curry
2 tsp. cumin
1 tsp. coriander
4–5 cups vegetable broth
1 cup red lentils
1 head cauliflower, divided into small pieces
2–3 cups peeled and cubed butternut or other winter squash
1 cup sliced collard greens
1 tsp. sea salt
Parsley or cilantro to garnish

M E T H O D
In a large soup pot sauté the onion and garlic in a few tablespoons of water or vegetable broth, adding a few pinches of sea salt
____
Add fennel, continue stirring 2–3 minutes
____
Combine ginger, curry, cumin and coriander and cook until fragrant
____
Add remaining vegetable broth and lentils, bring to a boil, reduce heat and simmer 2 minutes
____
Add cauliflower, squash and sea salt, cover and simmer 30 minutes
____
Finish with collard greens, stir and cook until tender (2–3 minutes), and garnish with chopped parsely or cilantro
____
Serve as a stand-alone dish or over rice
____
Serves 4-6
Pressed Salad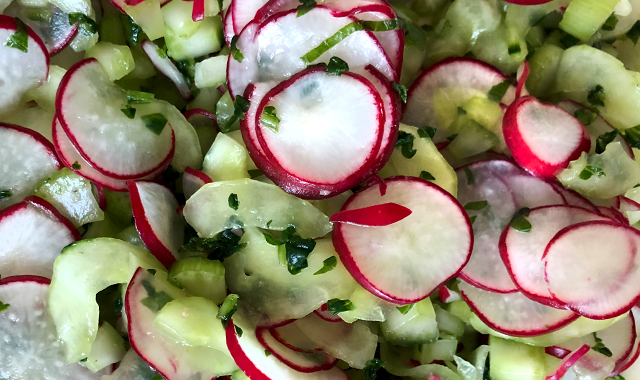 I N G R E D I E N T S
½ cup thinly sliced cucumbers
½ cup green, savoy, or napa cabbage, thinly sliced
½ cup red radishes, thinly sliced
¼ cup of red onion, thinly sliced
½ cup of celery, thinly sliced
½ to 1 tsp. sea salt

M E T H O D
Toss the vegetables with the sea salt and "work" the salad with your hands until limp, and shiny. The oil from your hands will help to blend the salt and vegetables
—
Place a plate and weight over the limp vegetables (I use a gallon jug of vinegar) and let the salad rest for 45 minutes
—
Drain the liquid and rinse the salad if it is too salty. Chill and serve with Parsley/Pumpkin seed/Scallion dressing (see recipe in "Sauces.")