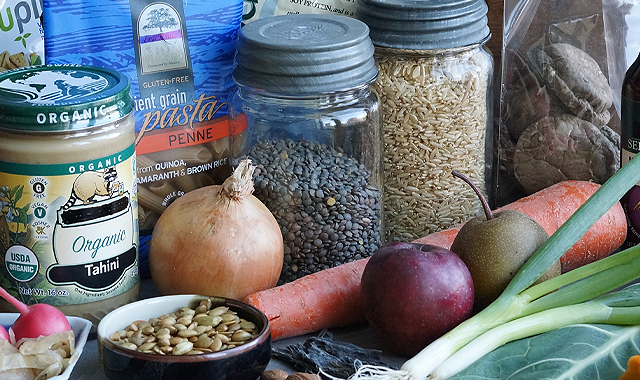 The main grains / Daily
Brown rice: short grain for temperate climates, long grain for warmer climates
Golden Rose brown rice: short grain
Sweet brown rice: for morning porridge
Barley: whole grain
Millet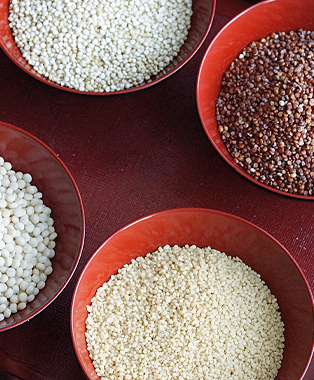 The secondary grains /
Several times per week
Amaranth
Pearl barley
Basmati rice
Quinoa
Buckwheat
Rye berries
Corn
Spelt
Jasmine rice
Sorghum
Kamut
Teff
Wheat berries
Oats: whole or steel cut
Pearl barley    
Wild rice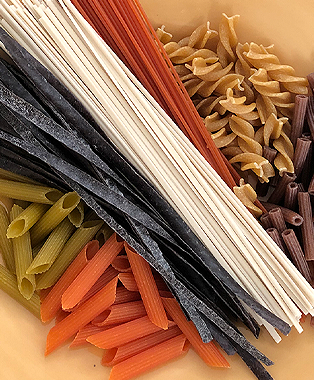 Noodles and pasta /
Several times per week
Bean noodles
Ramen
Rice noodles
Soba
Udon
Whole wheat pastas
Vegetable pastas
Flour products / Occasional
Naan: whole wheat
Pita bread: whole wheat
Sourdough bread: whole wheat
Tortillas: whole wheat or corn
Whole cereals / Occasional
Bulgur
Couscous
Mochi
Polenta
In Old English times "meal" meant grain.
Vegetables / Daily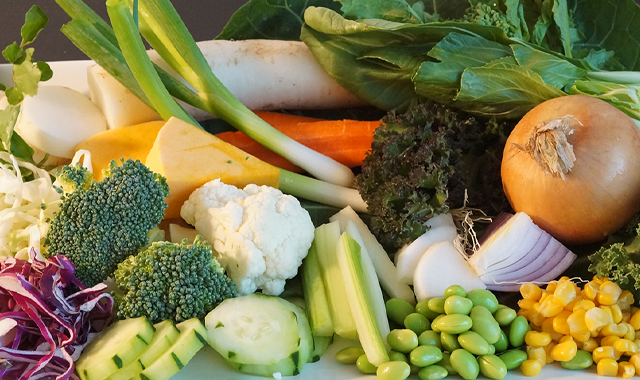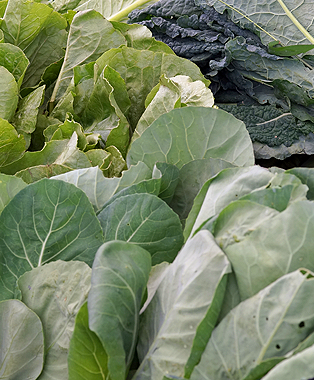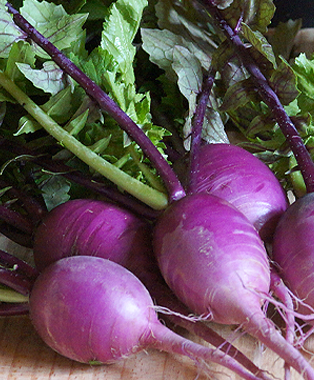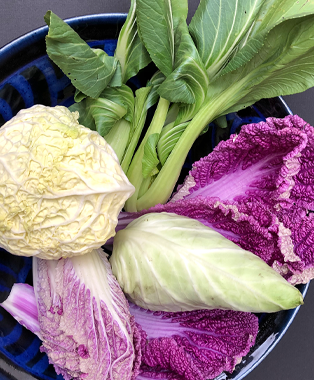 LEAFY GREENS
A serving a day will add chlorophyll, iron, calcium, vitamins A & C, and essential fiber. Many of these vegetables also help prevent cancer.

Arugula
Bok Choy
Cabbages
Carrot tops
Celery
Chickory
Chives
Collards
Dandelion
Daikon tops
Endive
Kale
Mustard greens
Parsley
Swiss chard
Turnip greens
Watercress
Wild spinach

—
ROOT VEGETABLES
Cancer-preventing; source of Vitamin A, beta carotene, minerals, and fiber. Root vegetables are especially important in winter as they store heat and energy and keep well over the long winter months.

Burdock
Carrot
Daikon
Ginger
Horseradish
Kuzu
Parsnip
Radish: red or other colors
Rutabaga
Sweet potato
Yam
—
GROUND OR ROUND VEGETABLES
The cabbage family is another cancer-preventing food

Broccoli
Brussels sprouts
Cauliflower
Fennel
Kohlrabi
Onion
Pumpkin
Red cabbage
Scallion
Squash: kabocha, butternut, acorn
Turnip
Zucchini
Occasional-use Vegetables
Celery
Cucumbers
Green or wax beans
Lettuce
Leeks
Peas (fresh)
Red cabbage
Snap and snow peas
Summer squash
Mushrooms / Weekly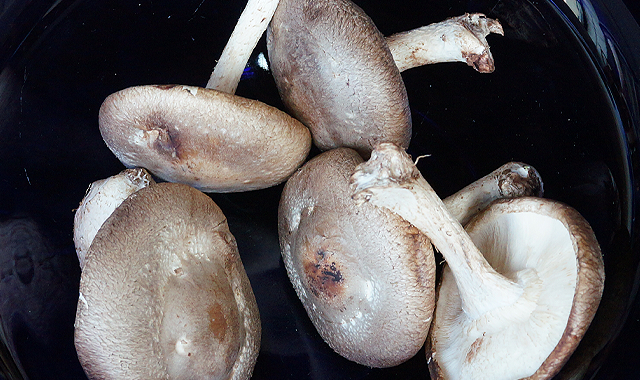 Maitake
Shiitake
Wild mushrooms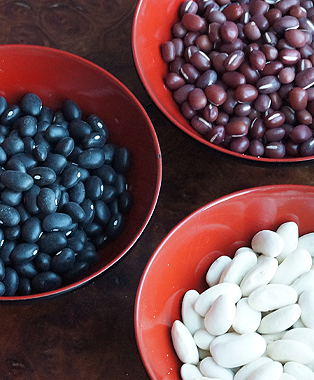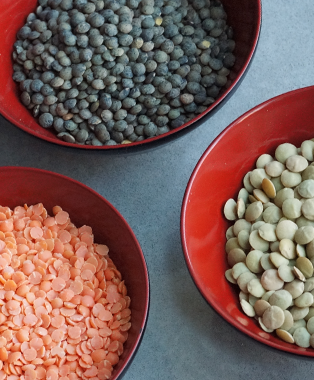 Beans / Daily
This complex carbohydrate is high in protein, good fats, and iron. They are inexpensive and an easy substitute in recipes for animal protein.

Azuki beans
Black turtle beans
Cannellini beans
Fava beans
Kidney beans
Lima beans
Mung beans
Navy beans
Yellow and black soybeans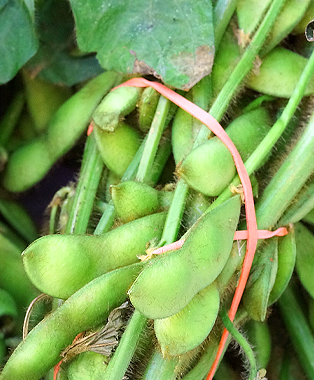 Dried beans and peas / Occasional
Black-eyed peas
Chickpeas
Green peas
Split peas
Lentils /
Several times per week
Black lentils
Brown lentils
DePuy lentils
Green lentils
Red lentils
Bean products / Daily
Hummus
Miso
Tempeh
Tofu
Fresh beans and peas / Occasionally
Broad beans
Green beans
Green peas
Snow peas
Sugar snap peas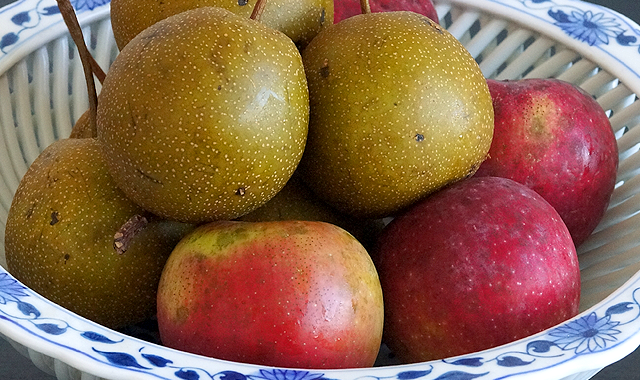 Fruits / Weekly
Another complex carbohydrate, high in vitamin C.
—
GROUND FRUITS & BERRIES
Blackberry
Blueberry
Cranberry
Melons
Raspberry
Strawberry
—
TREE FRUITS
Apple
Apricot 
Cherry
Clementine
Grape
Lemon
Lime
Orange
Peach
Pear
Plum
Nectarine
Tangerine
Nuts and seeds / Daily, one cup per week for each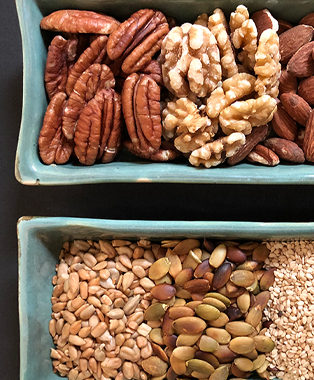 High in protein, good fats, calcium, iron, and vitamin A
—
NUTS
Almonds
Chestnuts
Hazelnuts
Pecans
Walnuts
These nuts are a better choice than tropical nuts like cashews and brazil nuts. Chestnuts are lowest in fat.
—
SEEDS
Brown sesame seeds
Black sesame seeds
Flax seeds
Pine nuts
Pumpkin seeds
Sunflower seeds
Nut butters / One cup per week
Almond butter
Peanut butter
Sunflower seed butter
Tahini
Walnut butter
Pickles and fermented foods / Daily
Lacto-fermented sauerkraut is an easy way to counteract the effects of our highly acidic diets. Homemade radish and other pickles are essential to our intestinal tract.
—
Kimchee
Lacto-fermented sauerkraut
Miso
Pickled ginger, radishes, daikon and other vegetables
Soy sauce
Umeboshi plums
Sea vegetables / As you like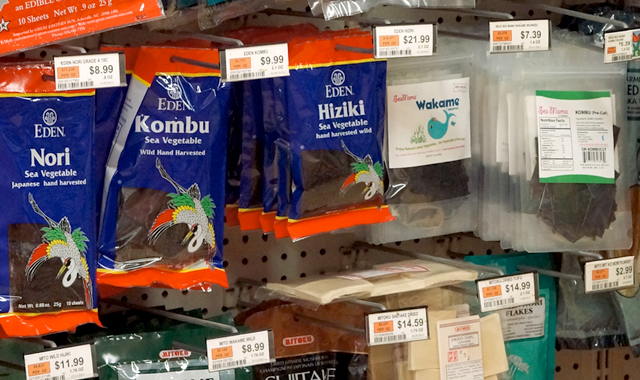 A one-inch piece of Kombu per week is enough for good health. It is excellent to use in soaking and cooking beans. It increases their digestibility and is a good source of iodine. Other sea vegetables are also excellent as condiments and complements to food.
—
Agar agar
Arame
Hijiki
Kombu
Nori (toasted)
Wakame
Snacks / Occasionally
Most store bought snacks are dry, over salted, and full of harmful additives. Dry foods are especially hard on the kidneys. Read the labels carefully and see if the snack food is something you really want to eat. Most granola and protein bars are full of sugar, so is flavored yogurt. Staying close to nature and eating whole foods is a good rule for choosing snacks.
—
Berries
Fresh fruits
Hummus and raw vegetables
Melons
Mochi
Nuts & Seeds
Popcorn, unsalted
Raw veggies
Rice cakes
Tahini on whole wheat sourdough bread
Vinegars / As you like
Apple cider vinegar
Brown rice vinegar
Sweet rice vinegar
Umeboshi vinegar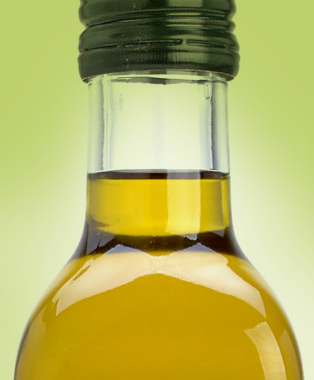 Oils and fats / Sparingly
Let me say a few things about oil:
Oils are the most calorie-dense and nutritionally poor food in our diet. Oil free, plant-based diets are reversing and curing many things, including heart disease. Because they have a very short shelf life, oils should be refrigerated, which can be inconvenient if they congeal and need to be used immediately. Onions and garlic can be sautéed in water or vegetable broth just fine! Try cutting down on the use of oils—a teaspoon is plenty.
Eat good fats from from unprocessed foods
like nuts & seeds, avacadoes, and beans.
Seasoning / To your taste
Cumin
Daikon: grated
Dried herbs: thyme, oregano
Garlic
Ginger
Gomashio
Lemon and lime
Mirin
Miso: white, barley, red; essential for a healthy gut
Mustard: yellow or Dijon
Nori flakes
Shoyu: excellent for digestion
Tamari
Toasted pumpkin seeds
Toasted sesame seeds: black and brown
Turmeric
White sea salt
Salt / Very sparingly
Hand harvested, sun dried, and moist high quality sea salt is the best. Salt is essential for survival. Humans evolved from sea creatures. Our bodies contain salt. It's common sense to use salt in the same proportion as it appears in our blood and other body fluids. A good rule of thumb is to use a pinch per cup of water or other liquid. Salt regulates our electrolytes. We get our minerals from salt—who wants to go without magnesium, copper, zinc, etc.? But we only need a little.
Sweeteners / To your taste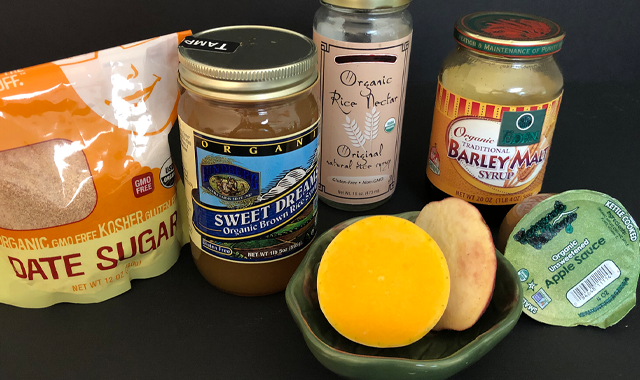 A friend of mine describes refined sugar this way: "It's death." White refined sugar needs to go. High fructose corn sweetener has to go. Eat more sweet vegetables like winter squashes, carrots, onions, cabbages, and drink sweet vegetable drinks. Sugar cravings will no longer be an issue.
—
A note on coconut from sources I respect: While there are some benefits, they don't outweigh the fact that coconut products are loaded with saturated fat.
—
Amazake
Apple or pear juice
Apple sauce
Barley malt
Brown rice syrup
Date sugar
Maple syrup
Mirin
Sweet vegetables
Beverages / Other than water (drink lots!)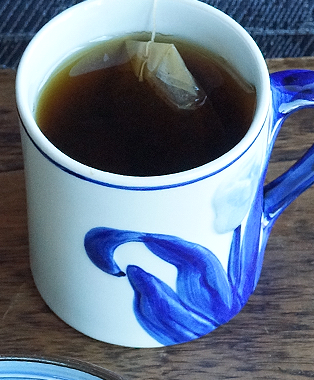 GREEN TEA
Bancha: twig and leaf
Genmaicha: roasted rice
Hojicha: roasted leaf
Kukicha or Twig: roasted twig
Matcha: most prized green tea, often in powder form
Sencha: Japanese green
Green teas are loaded with antioxidants. You can drink several cups a day, and the tea does not need to be very strong. (Note: Kukicha or Twig tea is made from twigs of the green tea plant. It was thought to be inferior to other teas and fed to the lower classes. The opposite is true, it turns out the twigs are very beneficial!)
—
OTHER BEVERAGES
It's best to avoid carbonated waters and drinks. If buying bottled water avoid plastic, it only ends up in our oceans.
—
Apple juice or cider
Camomile tea
Carrot juice
Celery juice
Fruit juice: pear, peach, apricot
Grain coffee
Herbal teas
Mu tea
Natural beer or wine
Nut butter milks: unsweetened; almond and hemp are best
Other vegetable juices
Roasted corn or barley teas
Sake
Soy milk: organic and unsweetened
Spring water
Et cetera
Last but not least, here are a few items from my Macrobiotic friends:
—
Kuzu is a root powder like arrowroot. It can be used medicinally or as a thickener.
Dried shitake mushrooms
Mochi: pounded rice cakes that make healthy croutons, waffles, desserts etc.
A jar of umeboshi plums (the "miracle plum"): I mash half a plum in a cup of twig tea and drink it at least three times a week—this helps the body heal itself.