Many of us are busy and struggle to find time to cook a healthy meal. "Keep it simple" is my best advice, and don't give up on nutrition because you think you don't have time to cook. Fresh vegetables, cooked whole grains, a pressed salad, and whole grain pastas can go along way and save time, but they often need a little pizzazz. 
—
Here are seven ways to liven up basic foods—and how to become a hero in the kitchen every day of the week.
Four Flavors Sauce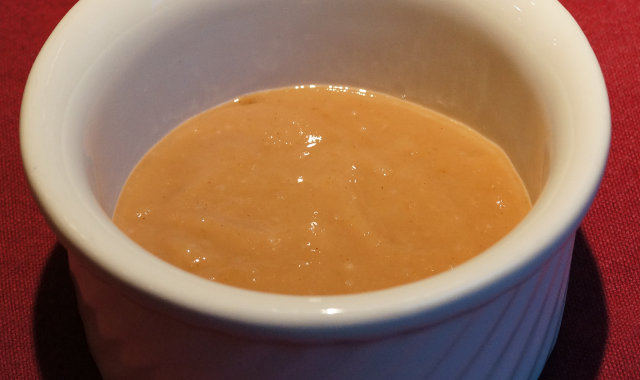 I N G R E D I E N T S
1 tbsp. umeboshi vinegar
1 tbsp. tahini
1 tbsp. white miso
1 tbsp. low glycemic sweetener like rice syrup

M E T H O D
Combine all four ingredients and stir
This recipe can be doubled or tripled and keeps for a few days. It's a balance of the four flavors: sour, bitter, salty, and sweet. The body likes balance. I use this sauce on steamed vegetables for a quick and easy dish.
Parsley/Pumpkin/Scallion Sauce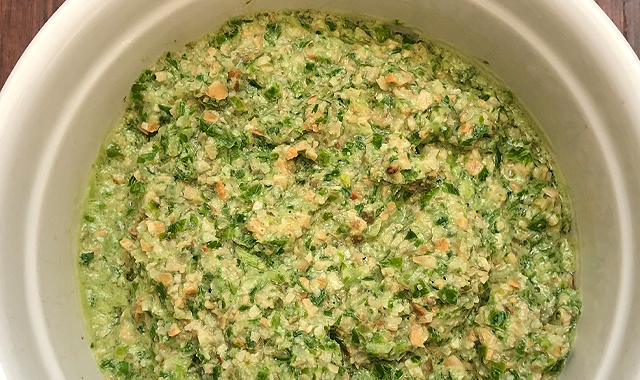 I N G R E D I E N T S
1 bunch of parsley
3–4 scallions
1 cup toasted pumpkin seeds (or toasted walnuts)
2 umeboshi plums, seeded and finely chopped
Dash of umeboshi vinegar
1 cup or less spring water

M E T H O D
Add ingredients to a food processor in this order:
Toasted pumpkin seeds (or walnuts) / Parsley and scallions /
Plums and vinegar
—
While ingredients are blending, slowly add ¾ to 1 cup water to reach desired consistency>
COOKING TIP / To toast pumpkin seeds, wash in a bowl of cool water. Swirl with hands, then rinse in sieve and drain. Gently toast seeds in a frying pan on medium to low heat. Stir often with a wooden spoon to toast evenly and prevent burning. The seeds will change color from green to medium brown when fully toasted.
Almond Pesto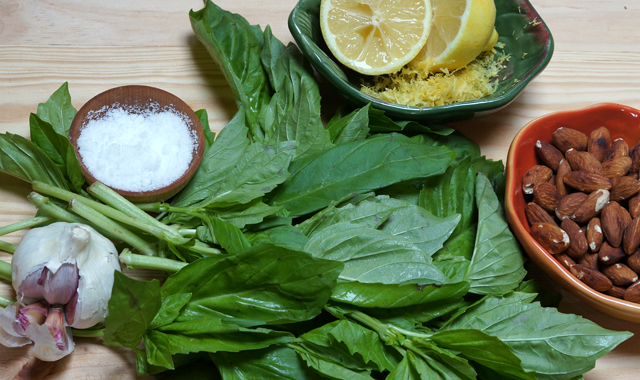 I N G R E D I E N T S
1 cup toasted almonds
Large bunch of fresh basil (about 2 cups), washed, stems removed
2 cloves garlic
Juice and zest from 2 lemons
Spring water
M E T H O D
Toast almonds for 3–4 minutes in a fry plan over medium low heat, stirring often until brown (a flame spreader under the pan prevents burning)
—
Peel garlic, chop coarsely and mince further in a food processor
—
Add almonds and process for a minute
—
Add basil and lemon zest, continue to process; slowly add lemon juice and water to desired consistency
—
Store in airtight jar in refrigerator. Almond pesto is excellent on whole grain pastas; tortillas; whole grain pizza with toppings like sliced red potatoes and pine nuts; and vegetable lasagnas
A simple recipe using this pesto is to boil your favorite pasta, add a few handfuls of chopped broccoli five minutes before the pasta is finished. Drain, reserving ¼ cup of cooking water, stir in the almond pesto. Continue cooking a few minutes—Easy peasy!
Lemony Tahini Dressing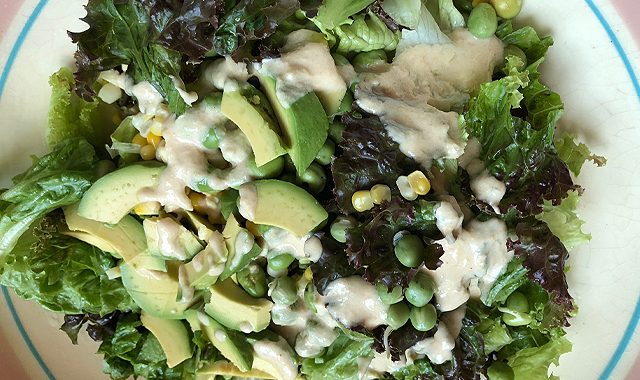 I N G R E D I E N T S
Juice and zest of 1 lemon
1 tsp. mirin
Dash of shoyu
2 tbsp. tahini
Spring water

M E T H O D
Mix the mirin, lemon juice and zest, and shoyu in a glass jar with a lid. Stir in the tahini; I like to use a fork for this. (If the tahini is too firm you can stir it in a separate bowl, add a little of the lemon mixture to thin, then shake all together.)
—
Shake to further combine, then thin with cool water to desired consistency.
Black Sesame Seed Dressing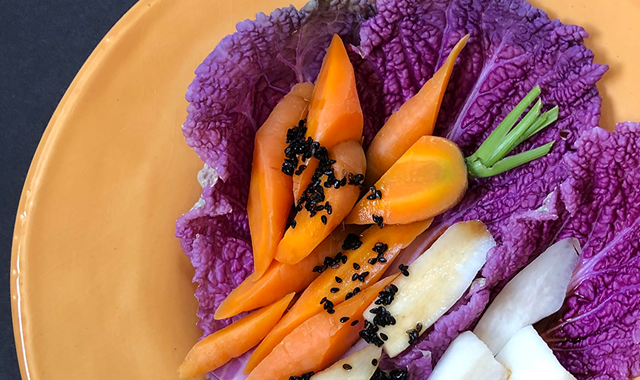 I N G R E D I E N T S
1 tbsp. toasted black sesame seeds
1 tsp. shoyu
1 tsp. brown rice vinegar
1 tsp. brown rice syrup
1 tbsp. grated fresh ginger
1 tbsp. spring water

M E T H O D
Place all ingredients in a small jar with lid and shake to combine.
Cilantro Salsa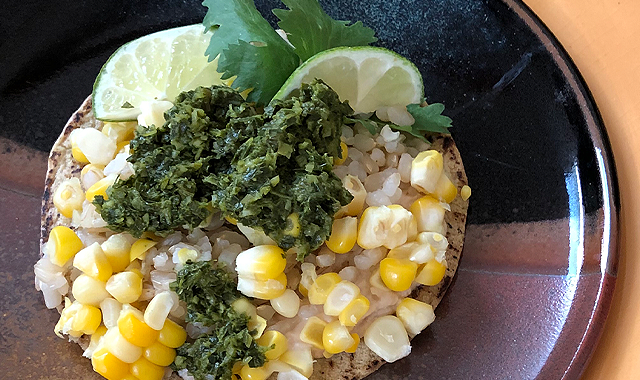 I N G R E D I E N T S
2 cloves of garlic, minced
2 scallions, thinly sliced
1 cup or a large bunch of fresh cilantro
Juice and zest of 2 limes
½ tsp cumin
Pinch of sea salt
Spring water

M E T H O D
Sauté the garlic, scallions and cumin in a little water with a pinch of sea salt until limp and fragrant. Be careful not to brown the garlic; allow to cool.
—
Remove as many of the stems from the cilantro as possible and place in a food processor with the lime and zest
—
Add the sautéed garlic and scallions and process until smooth, thinning with more water to desired consistency
Green and Black Dressing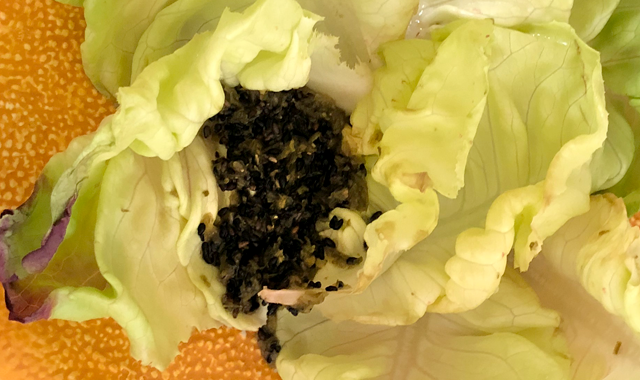 I N G R E D I E N T S
2 sprigs of basil, stems removed
¼ cup of chopped chives
5 sprigs of cilantro, stems removed
5 sprigs of parsley, stems removed
3 scallions, thinly sliced
4 tbsp. of rice vinegar
Water
Pinch of sea salt
Juice and zest of one lemon
3 tbsp. of black sesame seeds

M E T H O D
Combine the greens in a food processor, adding the vinegar, salt, lemon juice and zest and pulse to combine
—
Thin with water and continue processing to desired consistency
—
Add the sesame seeds and refrigerate in an airtight jar. The sauce will keep several days in the refrigerator