Easy White Bean Soup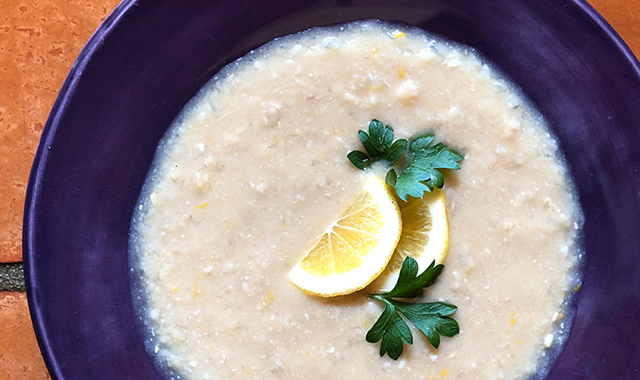 I N G R E D I E N T S
1 cup dried cannellini, navy, or any hard white bean*
1" piece of dried kombu
1 medium onion diced
1 clove garlic
3–4 cups of veggie broth, homemade or store-bought (organic)
1 bay leaf
¼ cup white miso
Pinch sea salt
Fresh or dried basil, oregano, thyme, parsley
Lemon juice and grated rind if desired

M E T H O D
Rinse the beans, cover with cool water and soak for 8 hours or overnight with kombu
____
Discard soaking water, rinse, add beans and kombu to a medium pot, cover with fresh water and bring to a boil over medium heat
____
Simmer uncovered for 10 minutes, scoop the foam off the top, then cover and cook over low heat for 45–50 minutes, or until beans are soft. Discard kombu and drain beans in a colander.
____
In a medium pot sauté the onion and garlic in a few tablespoons of water or broth for 3–4 minutes or until soft
____
Add the cooked (or canned) beans, remaining broth, bay leaf, sea salt and simmer for 15–20 minutes
____
Remove bay leaf and puree with a hand held mixer to desired consistency
____
Stir miso into 1 cup of bean soup, return to the pot on lowest heat for a few minutes, being careful not to boil the miso broth
____
Stir in the lemon juice and rind if using
____
Season with fresh or dried herbs. Serve with crusty, whole-grain sourdough bread and a salad for a complete meal.
____
Serves 4
*Time saver: Use a 15.5oz can of BPA-free beans
Corn and Squash Late Summer Soup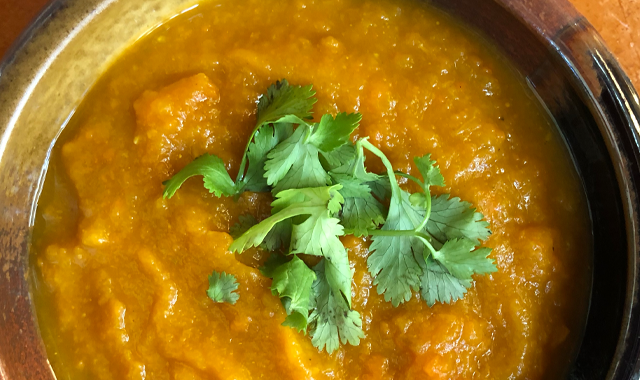 I N G R E D I E N T S
3–4 ears of fresh corn, shucked and grated
½ cup of rice milk (or corn juice left over from making dried corn: see recipe in Grains)
½ medium kabocha or other winter squash, peeled and cubed
1 tsp. white miso
Sea salt
Italian parsley or cilantro for garnish

M E T H O D
Grate the corn into a large saucepan, retaining the liquid
____
Add one cup of rice milk and simmer with a few pinches of sea salt for 5–10 minutes or until corn is cooked
____
Meanwhile, place the squash in a medium pot with several inches of water, simmer uncovered over medium heat until soft, 15–20 minutes, and most of the cooking water has evaporated
____
Mash the squash with a fork or use a hand held mixer, add the corn and continue to simmer
____
Thin the soup with additional rice milk if needed
____
Reduce the heat to low, stir the miso into a cup of the soup and return to the pot briefly, being careful not to boil the miso
____
Add the cilantro or parsley for a garnish.
____
Makes 5–6 cups of soup
Dashi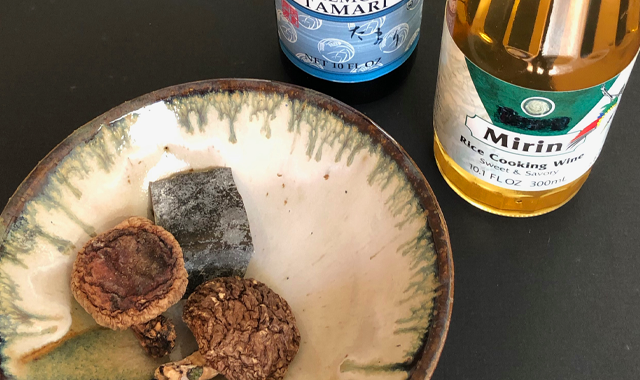 I N G R E D I E N T S
2–3 dried shiitake mushrooms
1" piece of dried kombu seaweed
1 tbsp. mirin
1 tbsp. shoyu or low salt tamari
4 cups spring water

M E T H O D
On low heat in a covered saucepan, slowly simmer the mushrooms, kombu, mirin, shoyu, and water for 1 hour. Simple, delicious, and nutritious!
Miso Soup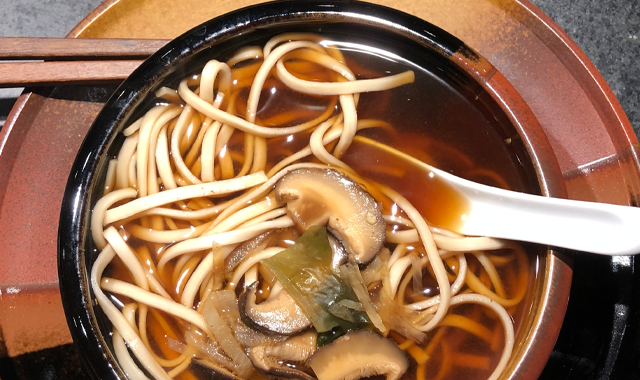 I N G R E D I E N T S
½ cup of matchstick vegetables: carrots, onions and daikon radish
2–3 pinches of dried wakame, or a 2–3″ piece, soaked and cut into bite-sized portions
1 tsp. fresh grated ginger
4 tsp. barley, brown rice, or soybean miso (organic and unpasteurized, and aged 2 years is best)
4 cups spring water or dashi (see recipe, above)
1–2 tbsp. chopped scallions

M E T H O D
Heat the water in a saucepan over medium heat and add the vegetables
____
Add the wakame and simmer a few minutes
____
Add the grated ginger
____
Dissolve the miso in ½ cup of soup broth and return to the pot
____
Reduce the heat to low and simmer, being careful not to boil the miso
____
Garnish with chopped scallion>
____
Serves 4
COOKING TIPS / For an extra-rich miso broth use the recipe for Dashi (above). A common mistake in making miso soup is to use too much miso. The rule of thumb is one teaspoon of miso per cup of water.

THE MANY OPTIONS
½ cup cubed tofu
Shiitake mushrooms (sliced fresh, or dried and soaked)
Celery, thinly sliced
Leeks, thinly sliced
Broccoli: small pieces
Cauliflower: small pieces
Cabbage: green, napa, or savoy, thinly sliced
Bok Choy, sliced
Any leafy greens, torn into bite-sized pieces
Mochi "croutons": pan fried or baked
Ginger juice
Watercress
Nori seaweed sprinkles
Edamame, shelled