Strawberry Kanten w/ Ginger and Mint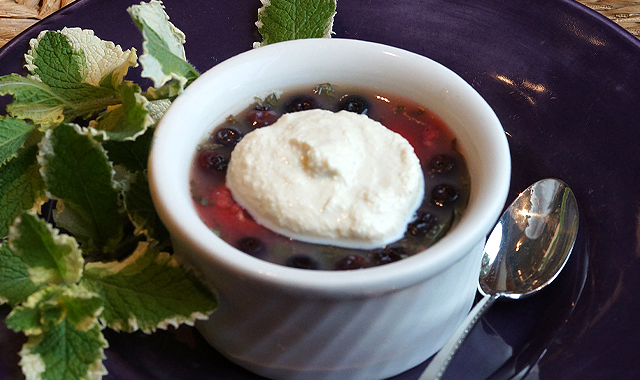 I N G R E D I E N T S / B A S E
3 cups apple or pear juice
1 cup water
4 heaping tbsp. kanten (also called agar agar)
2–3 cups of strawberries, sliced
1 tbsp. grated fresh ginger
2 tbsp. fresh mint leaves, coarsely chopped
Pinch of sea salt

I N G R E D I E N T S / T O F U – C R E A M
8oz. silken tofu, steamed for 5 minutes
2 tbsp. almond or other nut milk
1½ tsp. almond or vanilla extract
¼ cup maple syrup
¼ tsp. sea salt

M E T H O D
Make the base: Simmer the apple juice, water and sea salt over medium low heat
____
Stir in the agar agar, stirring continually until dissolved (it never seems to completely dissolve—just get close)
____
Place the strawberries in a glass serving dish and pour the liquid kanten over the fruit
____
Stir in the mint leaves and ginger and allow to cool to room temperature (Hint: stirring occasionally before it sets will keep the ginger from sinking to the bottom)
____
Chill in refrigerator until firm.
____
Make the tofu cream: Spin all the tofu cream ingredients in a food processor until smooth. Garnish with a dollop, serve and enjoy!
____
Kanten can also be made using individual ramekin dishes
Sesame Ginger Couscous Cake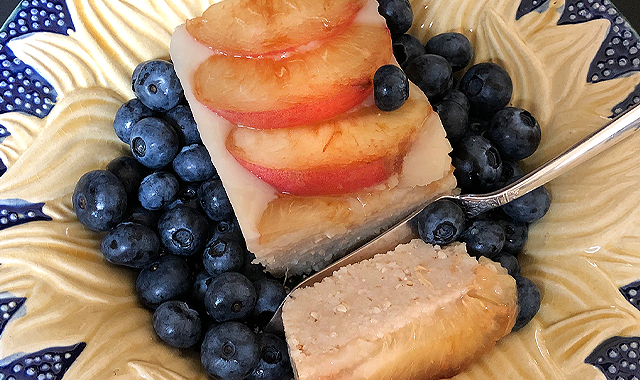 I N G R E D I E N T S / C A K E
1 cup whole wheat couscous
2 cups apple or pear juice
1 cup spring water
3–4 tbsp. toasted sesame seeds
Pinch of sea salt

I N G R E D I E N T S / T O P P I N G
2 tbsp. kuzu root (or arrowroot), diluted in ¼ cup cold water
1 cup apple or pear juice
2 tbsp. grated ginger

An additional topping of fresh fruits, like raspberries, strawberries or blueberries, can add color and zest.

M E T H O D
Make the cake: Place the juice and water into a saucepan and bring to a boil on medium heat. Pour the couscous into the boiling water, add sea salt and stir to prevent clumping
—
Reduce heat to low, cover, and place a flame spreader under the pot. Simmer for 15–20 minutes.
—
Remove from the pot, stir in sesame seeds
—
Press couscous into a square 8″ glass dish to cool
—
Add the topping(s): For the sauce, heat the remaining cup of juice in a saucepan until simmering
—
Add kuzu mixture to the heated juice, stirring to prevent clumping
—
When thick, add the grated ginger and pour on top of the cooled couscous. Chill until firm.
Stewed Fruits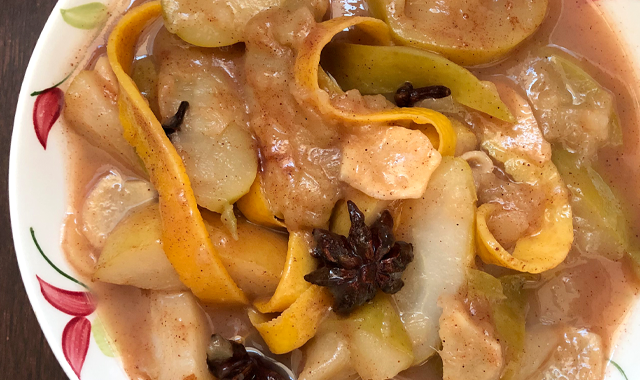 I N G R E D I E N T S
2–3 crisp, tart apples, cored and cut in 6 to 8 slices
2–3 Bosc pears, cored and cut in quarters
2–3 Asian pears, cored and cut in 6 to 8 slices
Apple or pear juice (apple cider is especially good)
Rind of one orange (I cut it in a spiral, in one piece)
1 cinnamon stick
6–8 whole cloves
1″ fresh ginger, sliced ¼" thick
2 or 3 star anise
A pinch of grated nutmeg

M E T H O D
Place the apples, pears and an inch or so of fruit juices in an ovenproof serving dish that is also safe for the stovetop
—
Add the remaining ingredients and simmer over medium low heat for a few minutes to thicken the sauce, being careful not to overcook the fruit
—
Place under the broiler to caramelize, and serve.