B O O K S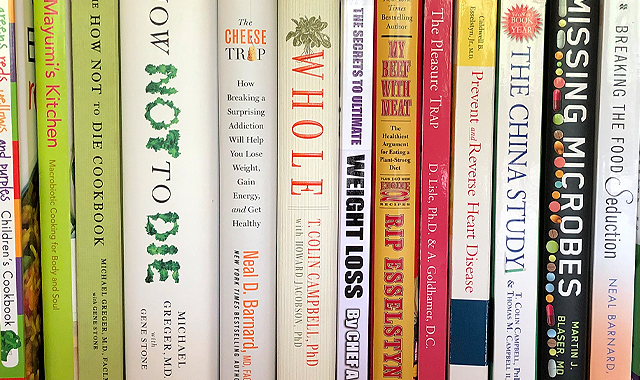 The China Study / Thomas M. Campbell, MD
In the most comprehensive study of nutrition ever conducted, the authors show startling conclusions to the relationship between diet and disease. Compelling reasons to adopt a plant-based, whole foods diet are presented. —
____
Whole / T. Colin Campbell, PhD
An examination of the problems of reductionism that permeate our health care system, and how to adopt a "Wholistic" approach for optimum health. 
____
The Low-Carb Fraud / T. Colin Campbell, PhD
Dr. Campbell responds to the confusion over carbs.  "All carbs are not created equal," he states, and low- or no-carb diets can actually deter good health. 
____
The Cheese Trap / Neal Barnard, MD, FACC
Dr. Barnard is president of the nonprofit Physician's Committee for Responsible Medicine and adjunct associate professor of medicine at the George Washington University School of Medicine and Health Sciences; he has authored many books, including Power Foods for the Brain, The 21-Day Weight Loss Kick Start, and Breaking the Food Seduction. In The Cheese Trap he presents information that changes the way we look at dairy products and the dangers of these addictive foods.  
____
How Not to Die / Michael Greger, MD, FACLM
Dr. Greger reads every English written study on food and nutrition that is published every year so we, as he puts it, "don't have to!" This New York Times bestseller outlines the 15 leading causes of death with their nutritional solutions. If you want to take the guessing game out of studies, this book is the one to read. The How Not to Die Cookbook is full of good recipes and beneficial advice.
____
The Pleasure Trap / Douglas Lisle, PhD and Alan Goldhamer, DC
Here again the authors use solid science to explain the problems associated with cravings we inherited through evolution, and how our best choices are not in the foods we typically find on the grocers' shelves, but rather in the plant-based, whole foods our ancestors more typically dined on.
____
Prevent and Reverse Heart Disease / Caldwell B. Esselstyn, MD
Revolutionary and scientifically proven, this is a nutrition-based cure for heart disease. A pioneer in preventative and restorative cardiovascular medicine, Dr. Esselstyn offers cures, not band-aids for heart disease.
____
My Beef with Meat and  The Engine 2 Diet / Rip Esselstyn 
A former professional triathlete, firefighter, health activist and food writer, Rip tells it like it is about food myths, fads and misconceptions. His Engine 2 Diet is a great way to kick-start your way to a new and healthier lifestyle.
____
Crazy Sexy Diet / Kris Carr 
This is the story of a cancer survivor who became a motivational speaker, wellness activist and bestselling author. Her book is full of humor and helpful information.
____
Food Matters and Vegan Before Six / Mark Bittman
New York Times correspondent and cookbook writer, Mark Bittman presents a "guide to conscious eating" on weight loss and healing the planet. In Vegan Before Six, Bittman demonstrates how he reversed all of his health issues, without sacrificing all the foods he typically enjoys; the book offers a starting point for anyone struggling to adopt a healthier diet.
Also on my recommended reading list:
Missing Microbes / Martin Blaser, MD
The McDougall Plan / John McDougall, MD
Diet for a Strong Heart / Michio Kushi
Dr. Dean Ornish's Program for Reversing Heart Disease /
Dean Ornish, MD
Get back in the kitchen with any of these cookbooks:
The How Not to Die Cookbook / Michael Greger, MD, FACLM
Plant-based recipes and tips for your best health
____
Forks Over Knives / Edited by Gene Stone
Recipes and tips for the transition to plant-based meals
____
The MILF Diet / Jessica Porter
Recipes and information to "turn back the clock" with a bit of humor
____
Mayumi's Kitchen / Mayumi Nishimura
Madonna's personal chef delights with delicious and healthy recipes
____
Love, Eric / Eric Lechasseur
New on my shelf: dairy- and refined sugar-free desserts
____
Oh, She Glows / Angela Lidden
When I'm cooking plant-based meals for meat eaters, Angela's recipes never disappoint.

V I D E O S / D O C U M E N T A R I E S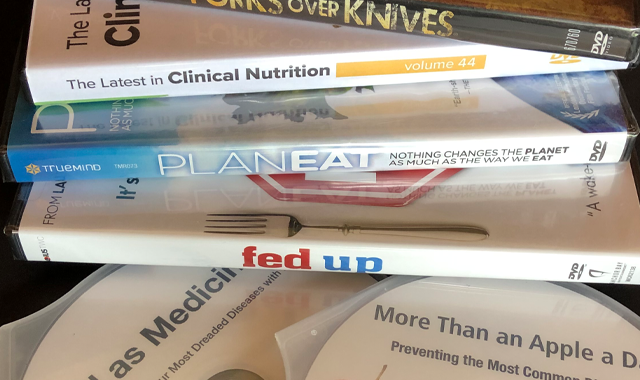 Forks Over Knives
Probably the most compelling story on food and health
____
The Game Changers
For super jocks, meat eaters (especially men), and all the rest of us— Surprising discoveries by James Cameron and Rip Esselstyn
____
From Table to Able and How Not to Die
Both by Dr. Michael Greger; more on how to live a long and healthy life.
____
Fed Up
Laurie David and Katie Couric reveal evidence about how we are misled about food.
____
PlanEat
Drs. Campbell and Esselstyn (with professor Gidon Eshel) tell their stories about diet and cancer, diet and heart disease, and how food choices affect our environment.
____
What the Health
Filmmaker Kip Andersen investigates why our nation's leading health organizations cover up the truth about food.

O N L I N E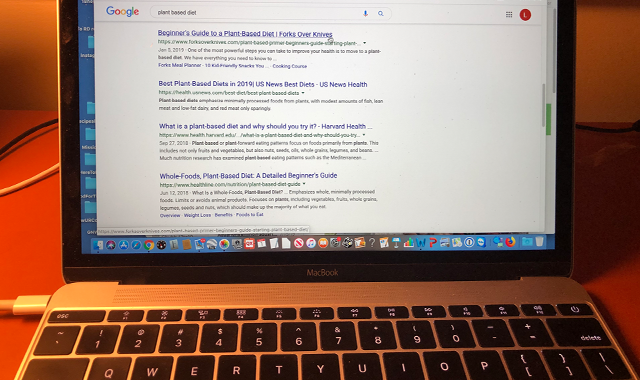 nutritionfacts.org / Dr. Michael Greger
nutritionstudies.org / Drs. T. Colin and Thomas Campbell
engine2diet.com / Rip Esselstyn
pcrm.org / Dr. Neal Barnard